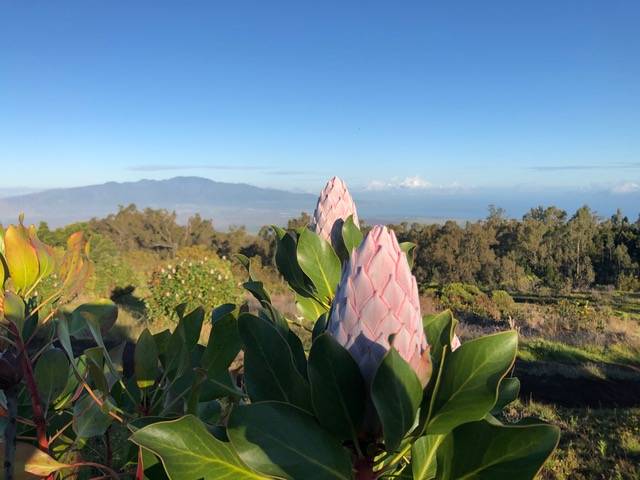 You know Maui as a remote tropical island paradise. But did you know that Maui has the world's finest environment for growing tropicals and exotic flowers? Tradewinds swirling across the vast blue Pacific bring pure cool rains that nurture the island's rainforests as well as the volcanic rich soil of our upcountry farms. And the combination of warm days, cool nights and dry summers create a perfect habitat for an abundant array of protea grown in upcountry Maui.
Today Maui Floral is the largest protea farm in Hawaii, and one of the oldest, established 45 years ago. . Located at the 3200ft elevation on the slopes of Mount Haleakala, Maureen and Carver Wilson grow a curated collection of Hawaii's best proteas on 50 acres. The proteas are harvested five days a week and then packed in gift boxes, bouquets and arrangements, often with other stunning Hawaii tropical flowers and shipped to consumers around the globe.   Maui Floral also produces and markets the hand sewn iconic Hawaiian flower Lei.
Maui Floral's protea and exotic flowers are stunning and inherently sturdy, they are long lasting and ship well. FEDEX has daily flights from Maui to the U.S. mainland and beyond, so these magnificent blooms can be sent directly from the grower to you!  
Maui Floral is proud to guarantee fresh flower delivery and free shipping!